What is Zone Crew?
According to the Clery Act and Cal/OSHA standard Title 8, Section 3220 every college and university is mandated to have a campus evacuation plan, department emergency action plans, identified assembly areas, and other emergency procedures. These regulations also require that faculty, staff, and students know what to do and where to go in the event of a campus emergency.
The UCI Zone Crew is comprised of building facility managers and volunteers across campus that will help facilitate building evacuations in an emergency. The campus is divided into 29 zones, each with designated Zone Captains or Building Coordinators. Zone Captains oversee each zone and work closely with our designated Building Coordinators to assist them.
Campus Zones:
Main Campus

Campus Core

Campus Perimeter

A7: Arts
A9: Athletics
B8: School of Medicine
C1: Student Center / Gateway
C2: Social Sciences / Law / Business / Education
C3: Engineering / ICS
C4: Physical Sciences
C5: Biological Sciences
C6: Humanities
C10: Aldrich Park
E1: ARC
F1: Research Park, Drake Dr North
F2: Research Park, Drake Dr South
Research Park 25: City of Irvine (Theory & Innovation)
UCI 02: North Campus

Housing

A20: Mesa Court and Mesa Towers
C21: Campus Village
C22: Middle Earth & Middle Earth Towers
D23: Puerta del Sol, Verano Place, Preschools, and Childcare Centers
D24: Palo Verde
E25: Plaza Verde
E26: Vista del Campo Norte
E27: Arroyo Vista and Camino del Sol
E28: Vista del Campo
University Hills

Directional

Landmarks

G1: West of Los Trancos Dr and South of Tierney House
Las Lomas Apartments, Garden park, Custom Homes, Tierney University House, Ecological Preserve
G2: East of Los Trancos Dr, West of Gabrielino Dr, South of E. Peltason Dr and North of Vista Bonita Dr
Las Lomas Apartments, Los Trancos Pool and recreation area
G3: East of Los Trancos Dr, West of Gabrielino Dr, South of Vista Bonita Dr and North of California Ave
Vista Bonita Park, Knoll Garden, Urey Pool, and Reines Vista
G4: South of E. Peltason Dr, East of Gabrielino Dr, North of California Ave and West of Anteater Dr
Santiago Apartments, University Montessori School, Gabrielino Apartments, Gabrielino Community Park, Petite Paws and Indy 500 Dog Park
G5: South of California Ave, North of Bonita Canyon Dr and West of Gabrielino Dr
University Hills Community Center, Agave Garden and Meadow Park
G6: South of California Ave, North of Bonita Canyon Dr, East of Gabrielino Dr and West of Anteater Dr
Alturas Rental Townhomes, Parker Vista, Vista Park, Playground Park, Coltrane Pool, Gateway Park, Miramonte Rental Townhomes, Coltrane Corner Park
What are the Roles and Responsibilities of Zone Crew Members?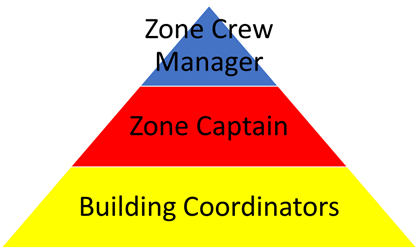 Before an Emergency:

Annual time commitment: 4 Hours
Coordinate training and exercises for your Zone
Attend meetings:

Annual Zone Crew & CERT Meeting

Before an Emergency:

Annual time commitment: 2 Hours
Assist Zone Captain with and participate in training and exercises/drills for your Zone
Attend Annual Zone Crew & CERT Meeting

During an emergency or drill:

If safe to do so/If possible, monitor and assist with building evacuations to Assembly Areas
Serve as point of contact for and coordinate zone activities
Communicate general zone conditions to Zone Crew Manager

During an emergency or drill:

If safe to do so/If possible, Monitor and assist with building evacuations to Assembly Areas
Communicate general building conditions to Zone Captain